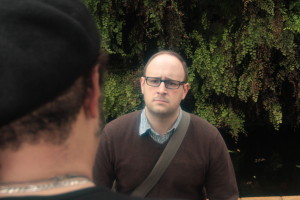 REDBUD PRODUCTIONS PRESENTS
THE ACCLAIMED NEW PLAY OF CHILDHOOD MEMORIES
THE GREAT GOD PAN
BY AWARD-WINNING PLAYWRIGHT AMY HERZOG
Directed By Loretta Grimes
Thursday, Friday & Saturday, May 29, 30 & 31 (8:00 PM)
Kerrytown Concert House, 415 North Fourth Avenue, Ann Arbor, MI
General Tickets are $20 and student tickets are $15;
Limited front row café table seating for groups of 2 – 3 for $25 a seat;
Special group rate general seating price of $15 per ticket for groups of 10 or more
For reservations, call Kerrytown Concert House at 734-769-2999 or visit kerrytownconcerthouse.com.
Redbud Productions celebrates its 15th year with this acclaimed play by award-winning playwright and Pulitzer Prize nominee Amy Herzog. The Great God Panwill be performed at Kerrytown following a critically-lauded world premiere at New York City's Playwrights Horizons Theater. "A haunting new play…not something I'll soon forget" The New York Times "Whatever the ideal [play] is, it has to look a lot like The Great God Pan" The New York Observer
Jamie (Dave Barker)'s life in Brooklyn seems just fine. He has a beautiful girlfriend (Katie Whitney), a budding journalism career, and parents (Mary Franceschi, Tim Grimes) who live just far enough away.
But, when a childhood acquaintance (Siamak Davarani) visits him with unsettling news, Jamie's life is thrown in a tailspin, and he finds it difficult to decipher what is real and what is imagined.
Janet Rich plays a former babysitter whose fading recollections may provide a clue to the past and Sofia Fall is a young girl with a serious ailment in this mysterious and deeply compassionate play – the intimate tale of the tricks of one's memory and of what is lost and won when a hidden truth is unloosed into the world.
"Haunting, deeply affecting, and unfailingly honest. Amy Herzog is one of the bright theatrical lights of her generation!" – The New York Times
REDBUD PRODUCTIONS PRESENTS
ACTING CLASS FOR ADULTS
and
HIGH SCHOOL STUDENTS
Redbud Productions in Ann Arbor, Michigan offers acting classes for adults and high school students, taught by local teacher, director and actress Loretta Grimes. Using the techniques of Sanford Meisner, sessions focus on emotional work, improvisation and scene study.
Loretta Grimes trained at the American Academy of Dramatic Arts in New York using methods devised by famed teacher Sanford Meisner. Using his technique, she encourages students to act moment-to-moment, recalling emotional images from their past to serve as a background for their character's emotional state of mind.
Loretta Grimes has successfully taught Meisner technique classes for adults and teens for over 15 years. Many of her students have gone on to featured roles for Redbud Productions, Purple Rose Theatre, Encore Musical Theatre, Ann Arbor Civic Theatre and other local companies as well as roles in several major motion pictures filmed in Michigan. Her high school students have gone on to advanced studies at Yale Drama School, New York University, the University of Michigan, New York's Circle in the Square, Juilliard, DePaul University and other Theater programs.
The current session is now full, however a new series of classes will be offered in September 2014. If you would like more information, or would like to be put on a mailing list for class registration, contact Redbud Productions at minkit@aol.com, or call 734-663-7167.