Broadway Bound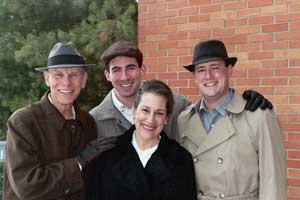 REDBUD PRODUCTIONS PRESENTS
THE PULITZER PRIZE -WINNING
NEIL SIMON COMEDY
OF FAMILY MEMORIES
BROADWAY BOUND
Directed By Loretta Grimes
APRIL 24 – 27
Riverside Arts Center, 76 North Huron Street, Ypsilanti, MI
Thurs. – Sat. evenings (8:00 pm), Sun. matinee (2:00 pm)
Tickets are $18 for adults; $15 for students & seniors – call 734-663-7167
Group rates are available, as well as discounts for pre-show dining at Haabs Restaurant – please call for more information.
Redbud Productions is proud to present the acclaimed autobiographical comedy from master of laughter – Neil Simon. Broadway Bound, one of Simon's most beloved plays, won multiple awards, including two Tony Awards and the Pulitzer Prize.
In the late 1940's, Eugene Jerome (Nathaniel Fremuth) and his older brother Stanley (Dave Barker) desperately try to break into the world of professional comedy writing. Their big break comes with an offer by CBS to write a comedy sketch. But, while the brothers create the comic punch lines that will mean success or failure in the world of television comedy, they must cope with the deteriorating marriage of their hard-working mother (Lenore Ferber) and their father (Tim Grimes), who holds a secret that may jeopardize the entire family.
David Keren plays the elderly grandfather and Kyle Marie is a wealthy but unhappy aunt in Redbud's version of this famous comedy, which was named Best American Play of the 1980's by Time Magazine.
Join us for an evening of laughter, love and family memories.