I Never Sang For My Father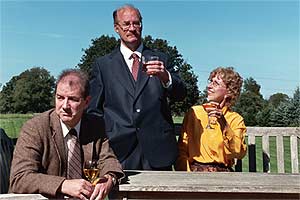 How does one deal with aging parents and the struggle to love one's own family?
REDBUD PRODUCTIONS PRESENTS
THE AWARD-WINNING PLAY BY ROBERT ANDERSON
I NEVER SANG FOR MY FATHER
Directed By Loretta Grimes
November 1 – 4
Riverside Arts Center, 76 North Huron Street, Ypsilanti, MI
Thurs – Sat. evenings (8:00 pm)
Sat. & Sun. matinees (2:00 pm)
Tickets are $16 for adults; $12 for students & seniors
For reservations, call 734-663-7167
Group rates are available, as well as discounts for pre-show dining at Haabs Restaurant – please call for more information.
Adult children are often the primary parental caregivers. But at what cost?
Redbud Productions presents Robert Anderson's award-winning examination of parent-child/ father-son relations – I Never Sang for My Father – the Tony-Award nominated play which which became a 1970 Gene Hackman /Melvyn Douglas Oscar-nominated film.
For middle-aged widower Gene (Larry Rusinsky), it is still not possible to 'sing' for his father (Jon Elliott) -to understand and be understood, accepted, and appreciated. His father, a difficult man and former mayor, does not easily show affection.
Gene is faced with the responsibility of parental caregiver at a time when he is also facing a crossroads in life – he wishes to remarry and move to California. How much does he owe his own parents and how much does he owe to himself? I Never Sang for My Father is a classic and dramatic examination of these and other family issues.
Redbud's outstanding cast features Erica Dutton as the delicate mother and Cassie Mann as the estranged sister with David Barker, Mary Franceschi, Thom Johnson, Jenny Pritchett, Emily Rogers, Hal Rothbart, Richard Sherburne and Alex Thomas.
Join us for this classic examination of timeless family issues.
If you are interested in receiving information about our productions or classes,
please contact us at 734-663-7167 or email us at minkit@aol.com.