August:Osage County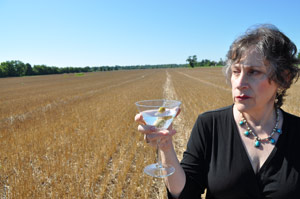 REDBUD PRODUCTIONS PRESENTS
THE LOCAL PREMIERE
OF TRACY LETT'S
PULITZER PRIZE-WINNING PLAY
AUGUST: OSAGE COUNTY
NAMED THE MOST EXCITING AMERICAN PLAY IN YEARS
BY THE NEW YORK TIMES
Directed By Tim Grimes
OCTOBER 6-9
Riverside Arts Center, 76 North Huron Street, Ypsilanti, MI
Thurs. – Sat. evenings (7:30 pm), Sat. & Sun. matinees (1:00 pm)
Tickets are $18 for adults; $15 for students & seniors – call 734-663-7167
Group rates are available, as well as discounts for pre-show dining at Haabs Restaurant
– please call for more information
Redbud Productions invites you to experience one of the most acclaimed plays in decades.
Winner of the Pulitzer, the Tony, the New York Drama Critics Circle and countless other awards, the comic tragedy August:Osage County is a tale of a truly dysfunctional family and their memorable reunion.
Meet the Westons of Pawhuska, Oklahoma! Lenore Ferber is the tough-as-nails matriarch whose husband (Gary Regal) is missing. Loretta Grimes, Cassie Mann and Deb Wood are her daughters who grudgingly rush to their parents' decrepit old house when they hear of the mysterious disappearance – only to find anger, guilt and denial as old animosities flare and multiple secrets are revealed.
The talented cast includes Joe Eadie, Kent Klausner, Ada Popovic, Edmond Reynolds, Jim Sullivan and Kathie Sullivan as family members caught in multiple disputes; Leslie McCarty (Meg Mott for the Sunday performance) as the housekeeper and Richard Sherburne as the sheriff who has his own emotion-filled past with the eccentric family.
Do not miss this exciting evening of theater! To reserve tickets, or for more information, call Redbud Productions at 734-663-7167.