Wit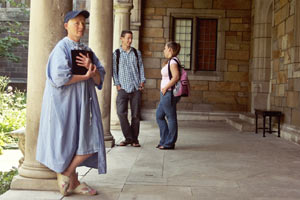 MARGARET EDSON'S
PULITZER PRIZE-WINNING PLAY
WIT
Directed By Tim Grimes
NOVEMBER 6 – 9
Riverside Arts Center, 76 North Huron Street, Ypsilanti, MI
Thurs. – Sat. evenings (8:00 pm),
Sat. & Sun. matinees (2:00 pm)
Tickets are $18 for adults; $15 for students & seniors
Call 734-663-7167
Group rates are available, as well as discounts for pre-show dining at Haabs Restaurant – please call for more information.
A renowned scholar and professor of English discovers that she has cancer in this acclaimed and beloved work, which won multiple awards including the Pulitzer Prize, the New York Drama Critics Circle Award, the Drama Desk Award and the Outer Critics Circle Award. It was also the basis of an Emmy-nominated television film starring Emma Thompson.
Redbud's version of this touching play features Loretta Grimes as the professor who is forced to examine her values when she discovers her illness. During her stint as a prize patient in an experimental chemotherapy program at a major teaching hospital; she comes to reassess her life and her work with an insight and humor that ultimately transforms her.
Michelle Lanzi, Dave Barker and David Keren play the medical team who battle her disease. The talented cast also includes Lenore Ferber, Pat Grimes, Halla Motawi, Ben Mueller, Jenny Pritchett, Richard Sherburne and Jocee Weatherly.