Tag Archives:
Liam Weeks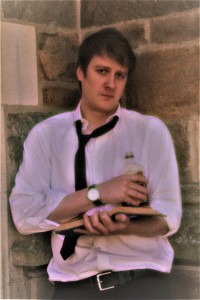 REDBUD PRODUCTIONS
PRESENTS
THE MIDWEST PREMIERE OF
PRODIGAL SON
THE ACCLAIMED NEW PLAY BY PULITZER PRIZE-WINNING PLAYWRIGHT JOHN PATRICK SHANLEY
Directed By Loretta Grimes
Thursday, Friday & Saturday; June 1,2 & 3 (8:00 PM)
Kerrytown Concert House, 415 North Fourth Avenue, Ann Arbor, MI
General Tickets are $20 and student tickets are $15;
Limited front row café table seating for groups of 2 – 3 for $25 a seat
For reservations, call Kerrytown Concert House at 734-769-2999 or visit kerrytownconcerthouse.com.
Redbud Productions continues its 18th year with the 2016 critically-acclaimed Off-Broadway smash by the Tony-winning, Oscar-nominated author of Doubt. This autobiographical new play is based on Shanley's tumultuous high school years in the late 1960's.
"As the memoir of a major moral playwright, it's a gem" – New York Theatre Wire
Prodigal Son is a passionate, explosive portrait of Shanley (Liam Weeks), a high school kid uprooted from the Bronx, on the verge of salvation or destruction as he desperately tries to fit in at an elite New Hampshire private school.
This gifted young man is violent, alienated, and on fire with a ferocious loneliness.
The Dean of the school (Tim Grimes) must wrestle with the dilemma: Is the young man a genius or a complete disaster and harmful to the students? Deb Wood is the Dean's kindhearted wife who believes in the young man's talent, Nate Brassfield plays the boys inspiring teacher, and Chris Krenz is the roommate caught in the middle.
"We all spent at least a few angst-ridden months (or maybe longer), like Jim, in "a special, beautiful room in hell." Thankfully, we have writers like Shanley to bring us back — for a brief, but intense, emotion-packed 95-minute trip" – Entertainment Weekly
"I want to see Prodigal Son again soon. It's the best thing that Shanley has given us since Doubt. You can't get much better than that." – The Wall Street Journal