ASSISTED LIVING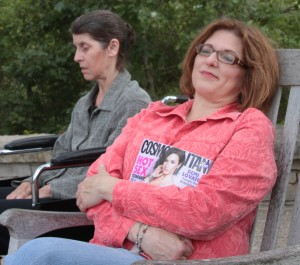 REDBUD PRODUCTIONS PRESENTS
THE MICHIGAN PREMIERE OF
ASSISTED LIVING
THE AWARD-WINNING COMEDY-DRAMA
OF AGING PARENTS AND UNHELPFUL SIBLINGS
BY DEIRDRE O'CONNOR
Directed By Loretta Grimes
Thursday, Friday & Saturday, October 1,2 & 3 (8:00 PM)
Kerrytown Concert House, 415 North Fourth Avenue, Ann Arbor, MI
General Tickets are $20 and student tickets are $15;
Limited front row café table seating for groups of 2 – 3 for $25 a seat
For reservations, call Kerrytown Concert House at 734-769-2999 or visit kerrytownconcerthouse.com.
Redbud Productions kicks off its 17th year with the Michigan premiere of this critically acclaimed comedy-drama. "Highly Recommended …this New York–based writer confirms her unique gift for capturing the quirks of human behavior and the stresses of contemporary life…. combining truth, humor and heart." – The Chicago Tribune
Librarian Anne Kelly (Mary Franceschi) desperately needs help. There is no romance in her life. She still lives with her aging, ailing mother. Her deadbeat brother (Jon Wax) won't return her calls or offer much assistance and her ancient family home is falling down around her.
When a younger man (Liam Weeks) with a sweet disposition, a thin resume and a shaky past applies for a job as her mother's in-home caregiver, Anne finds her quiet life spinning rapidly out of control in ways she had not expected.
Krystle Dellihue is featured as a surprise household guest in this delightful new play written by an Emmy Award-winning writer. Assisted Living is a funny and surprising look at the struggle to discover where our families end, and where we begin. The talented cast also includes Becky Freligh and Neeraja Aravamudan.
"A very compelling new play…and a remarkable proficient mystery that never lets you guess where it is going." – The Chicago Tribune