Tag Archives:
Chris Krenz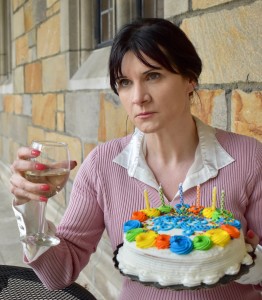 REDBUD PRODUCTIONS
PRESENTS
THE MIDWEST PREMIERE OF
THE HERD
THE CRITICALLY ACCLAIMED COMEDY/DRAMA OF A FAMILY IN CRISIS BY RORY KINNEAR
Directed By Loretta Grimes
Thursday, Friday & Saturday; May 30 & 31 and June 1 (8:00 PM)
Kerrytown Concert House, 415 North Fourth Avenue, Ann Arbor, MI
Reserved seats are $25 & $20 and student tickets are $15;
Limited front row café table seating for groups of 2 for $55 a table
For reservations, call Kerrytown Concert House at 734-769-2999 or visit kerrytownconcerthouse.com.
Redbud Productions continues its 20th year with the Michigan premiere of this witty and heartfelt play which examines a family falling apart and pulling together when life doesn't turn out the way they imagined.
"A warm, but unstinting look at the burdens and rewards of caring for a loved one with special needs." —Time Out Chicago.
A birthday party…two surprise guests…one unexpected evening.
Anxiety-ridden Carol (Lisa Coveney) is determined to have an intimate family dinner party for her disabled son who is turning twenty-one. Everything is going wrong. Her estranged ex-husband (Brian Hayes) drops in unexpectedly after years of having nothing to do with her or their son's disability. Her daughter (Katie Whitney) reveals that she has a new boyfriend (Chris Krenz), who Carol has never met, who will also attend. And Carol's son and caregiver are late…very, very late to the party. Lenore Ferber and Michael Haifleigh play the older generation of this clan confronting the possibilities of reconciliation, the power of the past, and the irresistible pull of family.
"A lively and moving comedy-drama… breathing with real, complicated life…buoyantly entertaining." – The New York Times