GOOD PEOPLE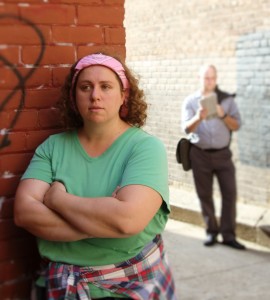 REDBUD PRODUCTIONS
PRESENTS
THE TONY-NOMINATED COMEDY-DRAMA
GOOD PEOPLE
BY PULITZER PRIZE-WINNING PLAYWRIGHT DAVID LINDSAY-ABAIRE
NAMED BEST PLAY OF THE YEAR
BY THE NEW YORK DRAMA CRITICS' CIRCLE
Directed By Loretta Grimes
Thursday, Friday & Saturday; October 13, 14 & 15 (8:00 PM)
Kerrytown Concert House, 415 North Fourth Avenue, Ann Arbor, MI
General Tickets are $20 and student tickets are $15;
Limited front row café table seating for groups of 2 – 3 for $25 a seat
For reservations, call Kerrytown Concert House at 734-769-2999 or visit kerrytownconcerthouse.com.
Redbud Productions celebrates its 18th year with this Tony- nominated play, named Best Play of the Year by the New York Drama Critics' Circle, written by the Pulitzer Prize-Winning Playwright of Rabbit Hole.
With a humorous glow, Good People explores the struggles, shifting loyalties and unshakable hopes that come with having next to nothing in America
"A very fine new play ….one of the more subtly surprising treats of this theater season." The New York Times. "A quality rarely seen on Broadway" – Time Out
Welcome to Southie, the Boston neighborhood where a night on the town means a few rounds of bingo, where this month's paycheck covers last month's bills, and where Margie Walsh (Katie Whitney) has just been fired from yet another job.
Facing eviction from her eccentric landlady (Linda Lee Austin) and scrambling to catch a break, Margie, on the advice of her best friend (Emily Rogers), approaches her former boyfriend (Dave Barker), now a wealthy doctor, in hopes that he is her ticket to a fresh new start.
Will this self-made man face his humble beginnings? Margie risks what little she has left to find out. The outstanding cast includes Krystle Dellihue and Chris Krenz.
"Good People maps the fault lines of social class with a rare acuity of perception while also packing a substantial emotional wallop." – Boston Globe "A wonderful new play … poignant, brave and almost subversive in its focus on what it really means to be down on your luck" The New York Post