IF I FORGET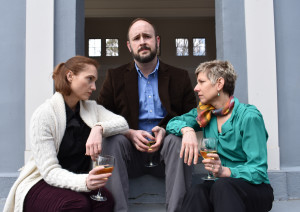 REDBUD PRODUCTIONS
PRESENTS
THE MIDWEST PREMIERE OF
IF I FORGET
BY TONY-WINNING PLAYWRIGHT STEVEN LEVENSON (DEAR EVAN HANSEN)
THE POWERFUL NEW FAMILY DRAMA
WINNER OF 2017'S OUTSTANDING NEW OFF-BROADWAY PLAY AWARD
Directed By Loretta Grimes
Thursday, Friday & Saturday; May 31, June 1 & 2 (8:00 PM)
Kerrytown Concert House, 415 North Fourth Avenue, Ann Arbor, MI
General Tickets are $20 and student tickets are $15;
Limited front row café table seating for groups of 2 – 3 for $25 a seat
For reservations, call Kerrytown Concert House at 734-769-2999 or visit kerrytownconcerthouse.com.
Redbud Productions continues its 19th year with this critically acclaimed new play, winner of the 2017 Outer Critics Circle Award for Outstanding New Off-Broadway Play. Playwright Steven Levenson won the 2017 Tony Award for the smash Broadway musical hit Dear Even Hansen.
"Passionate and provoking, If I Forget is a family play, a political play and a kitchen-sink play. ..The three adult children of an ailing father, Lou Fischer, are outspoken Jewish-Americans. Irritable and animated, the Fischers come vibrantly alive in this young playwright's funny, bruising, searching voice. — The New York Times
In the final months before 9/11, a liberal Jewish studies professor (Dave Barker) reunites with his two sisters (Melissa Stewart, Susan Todoroff) to celebrate their aged father (Tim Grimes)'s birthday.
Secrets and long-held resentments rush to the surface with biting humor and razor-sharp insight as the three siblings argue over how much they're willing to sacrifice for a new beginning. Each deeply invested in their own version of family history, they clash over everything from the professor's controversial new book to the enormous pressures of caring for an ailing parent.
Redbud's talented cast includes Brian Hayes, Chris Krenz, and Jennie Ross as family members caught in the siblings' struggle.
"A juicy melting pot of drama, comedy, and realistic family strife." —The Huffington Post
"If I Forget succeeds both as a thoughtful family drama filled with wit and as a compelling dissection of the world we live in." —Entertainment Weekly