The Wake of Jamie Foster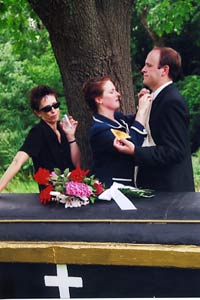 REDBUD PRODUCTIONS PRESENTS
A COMEDY OF ECCENTRIC FAMILY RELATIONSHIPS
BY AWARD-WINNING PLAYWRIGHT
BETH HENLEY
THE WAKE OF JAMEY FOSTER
October 12-15
Directed By Loretta Grimes
Riverside Arts Center, 76 North Huron Street, Ypsilanti, MI
Thurs. – Sat. evenings (8:00 pm)
Sat. & Sun. matinees (2:00 pm)
Tickets are $16 for adults; $12 for students & seniors
Call 734-663-7167
Group rates are available, as well as discounts for pre-show dining at Haabs Restaurant – please call for more information.
Local real estate developer (and failed poet) Jamey Foster was kicked in the head by a cow and now lies in a cheap pine box in his Mississippi living room. Can his family stop bickering long enough to have a proper funeral? Join us for The Wake of Jamey Foster, award-winning playwright Beth Henley's comedy filled with warmth, offbeat humor and zany revelations.
The famous author of Crimes of the Heart returned again to a Mississippi setting for this 1982 play which marked the Broadway debut of Holly Hunter and also starred Patricia Richardson of Home Improvement. Redbud's version will be directed by award-winning director Loretta Grimes, and will feature a cast of accomplished area actors.
The scene is a small-town in Mississippi, where the family of Jamey Foster, real estate salesman, failed poet and would-be historian (who was kicked in the head by a cow while consorting with his mistress in a pasture), have gathered for his wake. None of these individuals liked the deceased – and each have their own peculiar agenda.
The mourners include Jamey's estranged wife Marshael (Cassie Mann) who was in the midst of divorcing her philandering husband; her party-loving, hard-drinking sister Collard (Deb Wood) and her dim brother Leon (Nathaniel Fremuth) who works at a local turkey factory. Also present are Jamey's upwardly mobile brother Wayne (David Barker) who is disgusted that his deceased brother has been laid our in bright yellow clothes in the living room; and Wayne's oppressively doting bible-spouting wife Katty (Emily Rogers), who desperately wishes that everyone would just get along.
Add to the mix an orphan which a penchant for fire (Anika Steppe) and a love-struck, middle-aged pig farmer (Tim Grimes) and you have a recipe for eccentricity that will result in comic bickering, unique couplings and lots of laughs.
Join us for The Wake of Jamey Foster.