The House of Blue Leaves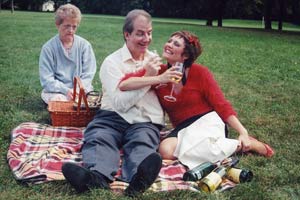 THE AWARD-WINNING BLACK COMEDY
OF 1960'S DREAMS, HOPES AND FAMILY RELATIONSHIPS
THE HOUSE OF BLUE LEAVES
OCTOBER 6 – 9 & 13 – 16
Directed By Tim Grimes
A zookeeper who dreams of being a songwriter – a mistress who longs for Hollywood – a wife who confuses brillo pads with hamburgers – a son who wants to blow up the pope. Is this the all-American family? Redbud Productions invites you to meet Artie, Bunny, Bananas and the assorted nuns, starlets, housewives and colorful characters who inhabit John Guare's award-winning black comedy The House of Blue Leaves.
For two weekends in October, Redbud Productions will present this Tony, Obie and New York Critic's Circle award -winning look at a dysfunctional family during several history making days in 1965 – the year the Pope visited New York. The production, directed by local actor/director Tim Grimes, will feature award-winning performers Larry Rusinsky, Kyle Marie and Loretta Grimes with a cast of accomplished area actors.
The production will take place at Riverside Arts Center, located at 76 North Huron Street in Ypsilanti, for two weekends – Thursday through Saturday (October 6 -8 & 13-15) at 8:00 p.m., with 2:00 p.m. matinees on Sunday, October 9 & 16. Tickets are $16 for adults and $12 for youth and seniors and may be purchased at the door. Reservations may be made in advance by calling 734-663-7167. Group rates are available, as well as discounts for dining at Haabs Restaurant – please call for more information.
The House of Blue Leaves first premiered off-Broadway in 1971 and promptly won the New York Drama Critic's Circle Award as the best American Play of the Year. An acclaimed 1986 all-star revival, featuring Swoozie Kurtz, Stockard Channing, John Mahoney, Ben Stiller, Christopher Walken, Julie Hagerty and others, saw the play move to Broadway to capture several Tony Awards. The House of Blue Leaves has garnered numerous other awards including the Obie Award and the Los Angeles Drama Critic Circle award and is viewed as the playwright's most popular and important work.
The date is 1965, the morning of the Pope's visit to New York City. Zookeeper Artie Shaughnessy (Larry Rusinsky), desperate to become a famous Hollywood songwriter, feels that luck may be finally on his side. His star-struck girlfriend (and downstairs' neighbor) Bunny (Kyle Marie), convinces him to place a call to his long time buddy, now a famous motion picture director. They are certain that rekindling this old friendship will buy both of them tickets to Hollywood fame and fortune. The problem? What to do with Artie's loony and lonely wife, Bananas (Loretta Grimes).
Each of these and the many other characters in this famous play are grasping and searching for visions just beyond their reach. Will Artie ever make it to Hollywood? Will Bunny finally live in the circle of Sandra Dee and Annette Funicello that she has only dared to read about in Modern Screen? And – – will Bananas ever receive the love and the life that she has somehow lost. Although this is a black comedy, there is a touching poignancy in these three-dimensional characters and their unreachable dreams.
Redbud's version co-stars
John Boonin as Artie's AWOL son;
Chrissy Gibson as a deaf starlet;
Lenore Ferber, Cassie Mann and Abby Huth as three nuns determined to get a better look at the pope, Khurum Sheikh as Billy, Artie's famous, but shallow, Hollywood buddy And Paddy Ash as the piano player in the nearby El Dorado Bar and Grill
Director Tim Grimes trained at the American Academy of Dramatic Arts in New York and, with his wife Loretta, has taught Redbud acting classes for area youth and adults for years, based on the methods of Sanford Meisner. He has performed in many local productions for Redbud Productions, MorrisCo Art Theater, Ann Arbor Civic Theater and other local groups, as well as in summer stock and regional productions in New England. He last directed Redbud's production of Crimes of the Heart.
Using theater games, emotional recall techniques and character study sheets, each actor in this play prepared for their role by studying the character they portray, and used events from their own lives to connect to the character's emotions. The cast also used an intense series of improvisations, based on their character's past lives, to more fully investigate their character. The result is a series of open, honest and compelling performances.