The Heiress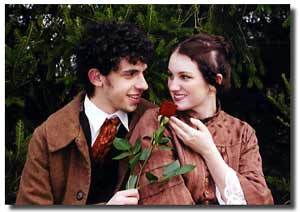 REDBUD PRODUCTIONS PRESENTS
THE AWARD-WINNING DRAMA
THE HEIRESS
MAY 20 – 23
Directed By Loretta Grimes, Featuring a Cast Of Area Adults and Teens
What do men seek in marriage – love or money? In The Heiress, by Ruth and Augustus Goetz, a well-to-do, but plain young woman is romanced by an attractive, but impoverished young man, despite the stern objections of her father. Does the young man really want her for herself? Or is he thinking of her vast wealth?
This award-winning play, based on a Henry James novel, became an Oscar-winning film featuring Montgomery Clift, Ralph Richardson and Olivia de Havilland, whose heartbreaking portrayal of the wealthy but extremely naive young woman won her the Academy Award for Best Actress. It was recently made into a critically acclaimed Jennifer Jason Leigh/Albert Finney/Maggie Smith film entitled Washington Square.
Now, Redbud Productions is proud to present a new staging of this drama, directed by award-winning director Loretta Grimes, and featuring a cast of acclaimed local actors – both adults as well as area high school students from the three Ann Arbor high schools.
The production will take place at Riverside Arts Center, located at 76 North Huron Street in Ypsilanti, Thursday through Saturday May 20-22 at 8:00 p.m. with 2:00 p.m. matinees on Saturday and Sunday May 22 & 23. Tickets are $16 for adults and $12 for youth and seniors and may be purchased at the door. Reservations may be made in advance by calling 734-663-7167.
The background of The Heiress is 1850's New York, as Catherine (Community High School's Brigit Mikusko), a shy and plain young girl, falls desperately in love with a delightful, but impoverished, young man-about-town (Pioneer High School's John Boonin). Catherine's father (Tim Grimes), a successful doctor, certain that he sees through the young man's intentions for his innocent daughter, forbids the marriage and threatens to disinherit her if the couple proceeds.
Catherine is desperately torn between her love and obedience to her father and her awakening feelings towards a young man who can offer her, for the first time, romantic love and a lifetime of happiness. Or can he? The young man plots a secret elopement – but does he really love her? And will she disobey her father and risk disinheritance for this man whom she has only known briefly?
Redbud's version co-stars Erica Dutton as Catherine's interfering aunt who connives to bring the couple together; Lenore Ferber as the doctor's well-to-do sister who tries to bring reason to the situation, Community High School's Laura Goldman as the young man's practical but poor sister, Pioneer High School's Marit Rogne as the devoted family maid, Huron High School's Chrissy Gibson as Marion, Catherine's beautiful and accomplished cousin and Pioneer High School's Tyler Pritchett as Marion's wealthy fiancée.
Using theater games, emotional recall techniques and character study sheets, each actor in the play studied the character they portray, and used events from their own lives to connect to the character's emotions. The cast also used an intense series of improvisations, based on their character's past lives, to more fully investigate the individuals which they portray. The result is a series of open honest and compelling performances.
Director Loretta Grimes trained at the American Academy of Dramatic Arts in New York and has been teaching acting to area youth and adults for years, based on the methods of Sanford Meisner. Many of the cast members in this production are Redbud students. She has also directed Redbud stagings of Picnic, Wait Until Dark, The Prime of Miss Jean Brodie, The Diary of Anne Frank, The Miracle Worker and Agnes of God. She last appeared onstage as Lenny in Redbud's Crimes of the Heart and has been seen in Marvin's Room (Bessie) and The Shadow Box (Maggie) and, with Ann Arbor Civic Theater, as Jessie Mae Watts in The Trip To Bountiful and Penny in You Can't Take It With You. Loretta and her husband Tim Grimes are the founders of Redbud Productions.
This is a unique chance to see a classic of the theater, and one that is heartbreakingly relevant today. It is a theatrical opportunity not to be missed!!