The Children's Hour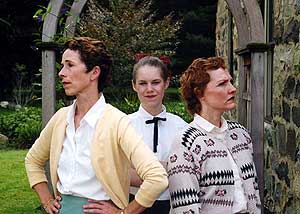 REDBUD PRODUCTIONS PRESENTS
THE AWARD-WINNING AMERICAN CLASSIC
BY LILLIAN HELLMAN
THE CHILDREN'S HOUR
OCTOBER 14-17 & 21-24
Directed By Loretta Grimes, Featuring a Cast Of 16 Area Adults and Teens
Award-winning playwright Lillian Hellman entered the world of the theater with a resounding thunder of acclaim in 1934 with this, her first and most famous play – The Children's Hour – a drama of the power of lies and gossip to destroy, when no one stands up to defend innocence.
Now, Redbud Productions is proud to present a new staging of this drama, directed by award-winning director Loretta Grimes, and featuring well-known local actresses Cassie Mann and Kyle Marie with an additional cast of 14 accomplished local actors. Nine of these performers are talented young actresses from several area middle and high schools .
The production will take place at Riverside Arts Center, located at 76 North Huron Street in Ypsilanti, for two weeks in October, with evening performances Thursday through Saturday October 14-16 & 21-23 at 8:00 p.m. and matinees at 2:00 p.m. on Sundays October 17 & 24. Tickets are $16 for adults and $12 for youth and seniors and may be purchased at the door. Reservations may be made in advance by calling 734-663-7167.
In addition to its sensational 1930's debut, The Childrens' Hour was revived on Broadway in 1952 with a cast that featured Kim Hunter and Patricia Neal. The famous 1951 film was nominated for several Academy Awards including Best Supporting Actress (Fay Bainter) and starred Audrey Hepburn, Shirley MacLaine, James Garner and Miriam Hopkins.
The Children's Hour tells the story of two struggling teachers – Karen (Cassie Mann) and Martha (Kyle Marie) whose dreams for the success of their school for girls is jeopardized by the malicious lies of a hateful young student, Mary Tilford (Pioneer High School's Marit Rogne). Mary successfully blackmails another, quite timid student (Slauson Middle School's Amelia Franceschi) to join in her fabrications and convinces her wealthy grandmother/guardian (Erica Dutton) that the two teachers pose a danger and threat to their young students. The resulting actions of the influential grandmother and the scandal that is evoked form the heart of this chilling and timely play.
Lillian Hellman wrote this work at the suggestion of her companion, the mystery writer Dashiel Hammett, after reading about a 1810 libel suit in Scotland. This true incident forms the foundation for this play, which co-stars David Wright as Karen's fiancee; Lenore Ferber as Martha's eccentric aunt, whose innocent remarks form the basis of many lies; and Slauson Middle School's Abby Huth and Anika Steppe as two eavesdropping students who become Mary's pawns in her quest to damage and destroy reputations. The cast also features Mary Franceschi as a suspicious housekeeper; Glen Modell as a sneering townsperson and Willow Arlen, Eve Boonin, Sasha Lazare, Jenny Pritchett and Ursula Ritter as unwitting students caught up in the scandal.
Is the villain of this classic play truly the young girl Mary- or is it those around her, who do little to stop her destructive ways? How much do the elements of this play resound in all of us, who see an evil in society but do nothing to protect the innocent in its path?
Using theater games, emotional recall techniques and character study sheets, each actor in the play studied the character they portray, and used events from their own lives to connect to the character's emotions. The cast also used an intense series of improvisations, based on their character's past lives, to more fully investigate the individuals which they portray. The result is a series of open honest and compelling performances.
Director Loretta Grimes trained at the American Academy of Dramatic Arts in New York and has been teaching acting to area youth and adults for years, based on the methods of Sanford Meisner. Many of the adult and youth cast members in this production are Redbud students. She has also directed Redbud stagings of The Heiress, Picnic, Wait Until Dark, The Prime of Miss Jean Brodie, The Diary of Anne Frank, The Miracle Worker and Agnes of God. She last appeared onstage as Lenny in Redbud's Crimes of the Heart and has been seen in Marvin's Room (Bessie) and The Shadow Box (Maggie) and, with Ann Arbor Civic Theater, as Jessie Mae Watts in The Trip To Bountiful and Penny in You Can't Take It With You. Loretta and her husband Tim Grimes are the founders of Redbud Productions.
This is a unique chance to see a chilling American classic, that is powerfully relevant today. It is a theatrical opportunity not to be missed!!
To reserve tickets, or for more information, call Redbud Productions (734-663-7