Tag Archives:
Jenna Naert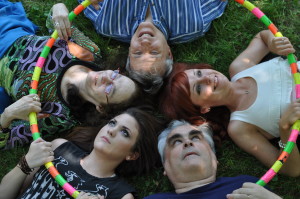 REDBUD PRODUCTIONS PRESENTS
THE DELIGHTFUL OFF-BROADWAY COMEDY/DRAMA
OF MISMATCHED STUDENTS IN A NEW ENGLAND ACTING CLASS
CIRCLE MIRROR TRANSFORMATION
BY ANNIE BAKER
Directed By Loretta Grimes
Wednesday, Thursday & Friday, October 16, 17 & 18 (8:00 PM)
Kerrytown Concert House, 415 North Fourth Avenue, Ann Arbor, MI
General Tickets are $20 and student tickets are $15
Limited front row café table seating for groups of 2 – 3 for $25 a seat;
Special group rate general seating price of $15 per ticket for groups of 10 or more
For reservations, call Kerrytown Concert House at 734-769-2999 or visit kerrytownconcerthouse.com.
Redbud Productions (voted 2011's Best Stage Production Company by annarbor.com readers) celebrates its 15th anniversary with this critically acclaimed comedy-drama – winner of the 2010 Obie Award for Best New American Play and lauded as one of the top ten plays of the year by The New York Times, Time Out New York, and The New Yorker.
In a small Vermont town, it is time for Marty (Liz Greaves-Hoxsie)'s new six-week creative drama class for adults! Only four students have enrolled – a recently divorced carpenter (Jim Sullivan), a flirty former actress (Jenna Naert), a jaded high school junior (Maddie Maxey) and Marty's husband (Tim Grimes) who reluctantly enrolled because Marty needed more students.
As these five mismatched New Englanders begin to experiment with harmless theatre games – touching hilarity ensues, hearts are quietly torn apart, and tiny wars of epic proportions are waged and won.
Circle Mirror Transformation is "absorbing, unblinking and sharply funny!" says The New York Times. Don't miss it!