Tag Archives:
Celine Lopez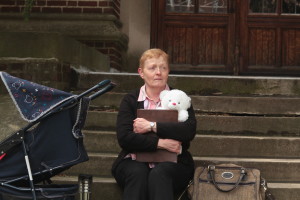 REDBUD PRODUCTIONS
PRESENTS
THE MICHIGAN PREMIERE
OF
LUNA GALE
BY REBECCA GILMAN
THE COMPELLING NEW DRAMA
OF A SOCIAL WORKER
AND TWO YOUNG PARENTS
NAMED THE 2015 BEST PLAY OF THE YEAR
BY THE AMERICAN THEATRE CRITICS' ASSOCIATION
Directed By Tim Grimes
Thursday, Friday & Saturday, June 2, 3 & 4 (8:00 PM)
Kerrytown Concert House, 415 North Fourth Avenue, Ann Arbor, MI
General Tickets are $20 and student tickets are $15;
Limited front row café table seating for groups of 2 – 3 for $25 a seat
For reservations, call Kerrytown Concert House at 734-769-2999 or visit kerrytownconcerthouse.com.
Redbud Productions continues its 17th year with the Michigan premiere of this critically acclaimed new play, named the 2015 Best Play of the Year by the American Theatre Critics' Association.
"Smart and absorbing." — The New York Times. "One of this year's most valuable additions to American drama." — The Los Angeles Times.
Veteran social worker Caroline (Loretta Grimes) believes that she has a typical case on her hands when she meets two young addicts (Krystle Dellihue and Liam Weeks) accused of neglecting their baby.
But when she places their infant daughter in the care of the girl's mother (Deb Wood), Caroline sparks a powerful conflict that exposes a shadowy past and forces her to make a risky decision with potentially disastrous consequences.
Powerful and arresting, Luna Gale is a heartbreaking and unforgettable tale of love and betrayal.
Redbud's talented cast includes Matt Clark, Brian Hayes and Celine Lopez.
"An outstanding new social drama about parenting that stands as a rich contribution to the American theater canon" – The Hollywood Reporter.