Tag Archives:
4000 Miles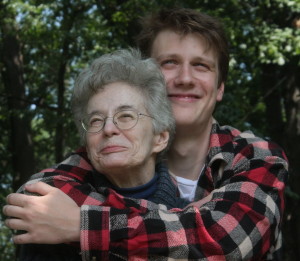 REDBUD PRODUCTIONS PRESENTS
4000 MILES
BY AWARD-WINNING PLAYWRIGHT AMY HERZOG
THE PULITZER PRIZE-NOMINATED COMEDY/DRAMA
OF A YOUNG MAN AND HIS ELDERLY GRANDMOTHER
NAMED TIME MAGAZINE'S BEST PLAY OF THE YEAR
Directed By Loretta Grimes
Thursday, Friday & Saturday, October 23, 24 & 25 (8:00 PM)
Kerrytown Concert House, 415 North Fourth Avenue, Ann Arbor, MI
General Tickets are $20 and student tickets are $15;
Limited front row café table seating for groups of 2 – 3 for $25 a seat;
Special group rate general seating price of $15 per ticket for groups of 10 or more
For reservations, call Kerrytown Concert House at 734-769-2999 or visit kerrytownconcerthouse.com.
Redbud Productions kicks off its 16th year with the Ann Arbor premiere of this critically lauded comedy/drama. The Off-Broadway smash hit 4000 Miles, winner of the 2012 Obie Award for Best New Play and the New York Times Award for Outstanding Playwright, was also a finalist for the Pulitzer Prize and named The Best Play of the Year by Time Magazine.
"5 Stars…One of the best, bravest plays of the season. See it, no matter how far you must travel" – Time Out, New York "Funny, moving, altogether wonderful…"- The New York Times.
After suffering a major loss during a bike trip from Seattle to New York, 21 year-old Leo (Liam Weeks) drops in unexpectedly at 3 am to the tiny West Village apartment of his feisty 91 year-old Jewish grandmother (Liz Greaves-Hoxsie).
What begins as an overnight visit turns into weeks as these unlikely roommates infuriate, bewilder, and carefully learn how to love and care for each other.
Redbud's talented cast includes Maddie Maxey as Leo's new romance and Dana Denha as his determined girlfriend who arrives to announce their break up.
"Plays as truthful and touching and fine as Amy Herzog's 4000 Miles come along once or maybe twice a season, if we're lucky." – The New York Times.