Steel Magnolias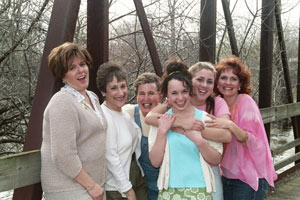 M'Lynn, Shelby and the gang invite you down to Truvy's Beauty Parlor for an evening full of laughs, tenderness and tears!
REDBUD PRODUCTIONS PRESENTS
ROBERT HARLING'S FAMOUS COMEDY – DRAMA
STEEL MAGNOLIAS
May 31 – June 3
Directed By Emily Rogers
Riverside Arts Center, 76 North Huron Street, Ypsilanti, MI
Thurs. – Sat. evenings (8:00 pm)
Sat. & Sun. matinees (2:00 pm)
Tickets are $16 for adults; $12 for students & seniors – call 734-663-7167
Group rates are available, as well as discounts for pre-show dining at Haabs Restaurant – please call for more information.
At Truvy's (Kyle Marie)'s Louisiana beauty salon, all the ladies who are "anybody" come to have their hair done. Helped by her eager but clumsy new assistant, Annelle (Abby Huth), the outspoken, wise-cracking Truvy dispenses shampoos and free advice.
Among Truvy's customers is the much admired M'Lynn (Lenore Ferber) , whose beautiful daughter, Shelby (Chrissy Gibson) is about to marry – and whose life will never be the same.
What happens between mother/daughter in the next few years in the midst of their supportive (and eccentric) beauty shop friends (Mary Franceschi and Sandy Ryder) forms the framework of this funny, tragic and touching audience favorite, made famous through the Julia Roberts/Sally Fields Oscar-nominated film..
Join us to laugh, cry and visit the ladies of Steel Magnolias