Rabbit Hole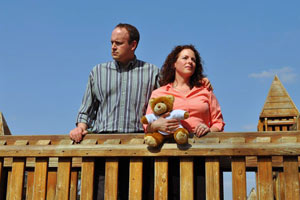 REDBUD PRODUCTIONS PRESENTS
THE PULITZER PRIZE-WINNING PLAY
BY DAVID LINDSAY-ABAIRE
RABBIT HOLE
THE TOUCHING HUMOR-FILLED STORY
OF A FAMILY IN DIFFICULT TIMES
Directed By Tim Grimes
JUNE 2 – 5
Riverside Arts Center, 76 North Huron Street, Ypsilanti, MI
Thurs. – Sat. evenings (8:00 pm), Sat. & Sun. matinees (2:00 pm)
Tickets are $18 for adults; $15 for students & seniors – call 734-663-7167
Group rates are available, as well as discounts for pre-show dining at Haabs Restaurant
– please call for more information
Redbud Productions is extremely proud to present the Tony-nominated, Pulitzer Prize-winning play Rabbit Hole by David Lindsay-Abaire. The acclaimed play, the basis for the Oscar-nominated film starring Nicole Kidman, is a bittersweet humor-filled drama of finding hope in difficult times.
Rabbit Hole opened on Broadway in 2006 to excellent reviews. "With Rabbit Hole, David Lindsay-Abaire has crafted the most serious, simply told work of his career – a painstakingly beautiful, dramatically resourceful, exquisitely human new play (BackStage). Variety called it "an uncommonly affecting and absorbing play," while Entertainment Weekly rated it "Grade: A! A transcendent and deeply affecting new play, which shifts perfectly from hilarity to grief."
Becca (Emily Rogers) and Howie (Dave Barker) have everything a young, suburban couple could want – a great marriage, a beautiful house – until a sudden accident turns their world upside down and leaves the couple drifting perilously apart.
Jenny Pritchett, Loretta Grimes and Pat Grimes are also featured in this outstanding new work, which received multiple Tony nominations, including Best Play.
Do not miss this humorous, emotion-filled evening of theater! Come and see what some say is the best play of the decade!
To reserve tickets, or for more information, call Redbud Productions at 734-663-7167.