Picnic (Youth Production)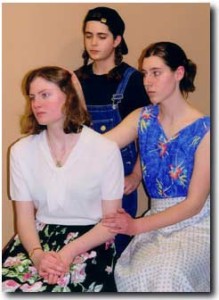 REDBUD PRODUCTIONS PRESENTS
THE PULITZER-PRIZE WINNING ROMANTIC DRAMA
PICNIC
MAY 29 – JUNE 1
This Youth Production features 19 students from 13 area high schools and middle schools in Ann Arbor, Ypsilanti, Saline and Romulus
Redbud Productions is proud to present a new staging of William Inge's Pulitzer Prize-winning romantic drama Picnic. This youth production, directed by Loretta Grimes, will feature 19 local youth from 13 area middle and high schools in Ann Arbor, Ypsilanti, Saline and Romulus.
The production will take place at Riverside Arts Center, located at 76 North Huron> Street in Ypsilanti, Thursday through Saturday (May 29 through 31) at 7:30 p.m., with 2:00 p.m. matinees on Saturday May 31 and Sunday, June 1. Tickets are $12 for adults and $9 for youth and seniors and may be purchased at the door. Reservations may be made in advance by calling 734-663-7167.
To prepare for the production, the young cast has studied techniques of Sanford Meisner, leaning how to recall emotions from their own past to bring these characters to life on stage. Each young actor has also created a detailed character biography, and much time is spend in rehearsal with character improvisations based on the created backgrounds. The result is a series of complex, honest portrayals
With much humor and insight, Picnic tells the story of a Labor-Day Weekend in a small Kansas town and the effect that a magnetic drifter has on a widow, her two young daughters and a spinster school teacher who is a boarder at the family's residence. Each one of these individuals will have their lives irrevocably changed before the weekend, and the town's Labor Day picnic, have concluded. Paul Newman, Kim Stanley and Eileen Heckart were stars of the original Broadway production, which won both the Pulitzer Prize and the New York Drama Critics Circle Award. William Holden, Rosalind Russell and Kim Novak went on to star in the Academy Award-winning film (which was nominated for best picture of the year).
Redbud's production features Saline High School's Neal Brace as Hal, the drifter who changes the lives of those around him in the small Kansas town. Community High School's Kristen Stelter is the town's beauty queen, Madge Owens, who is drawn to Hal and who yearns for more than the town can offer. Anna Miklosovic (Washtenaw Community College High School) is Madge's suspicious mother and John Boonin (Pioneer High School) is Madge's rich boyfriend – and Hal's best friend and former college roommate. Other women whose lives will change during this Labor Day weekend include Madge's tomboy sister, Millie (Slauson Middle School's Amelia Franceschi) and the Owens' spinster schoolteacher/boarder, Rosemary (Community High School's Kristina Thompson) whose picnic dance with Hal will prove to be his downfall.
Director Loretta Grimes trained at the American Academy of Dramatic Arts in New York and has been teaching acting to area youth and adults for several years, based on the Meisner method. Using theater games, emotional recall techniques and character study sheets, each young actor in the play has learned to study the character they portray, and to use events from their own lives to connect to the emotions that the character is undergoing.
Loretta Grimes directed Redbud Production's acclaimed youth staging of The Diary of Anne Frank, which was selected by the Ann Arbor News as one of the best productions of 2001 while six of the play's 13 young actors were cited by the News for outstanding performances of the year. She has also Redbud youth productions of The Miracle Worker and The Prime of Miss Jean Brodie as well as Redbud stagings of Wait Until Dark and Agnes of God. She trained at the American Academy of Dramatic Arts in New York and has been teaching acting to area youth and adults for several years, based on the Meisner method. Loretta and her husband Tim Grimes are the founders of Redbud Productions.