Dividing The Estate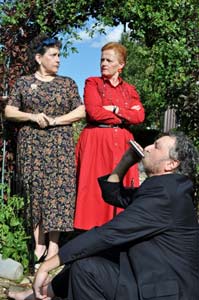 REDBUD PRODUCTIONS PRESENTS
THE LOCAL PREMIERE OF
THE TONY-NOMINATED COMEDY-DRAMA
AND BROADWAY SMASH HIT
BY AMERICA'S BELOVED PULITZER
AND OSCAR-WINNING PLAYWRIGHT!!
DIVIDING THE ESTATE
BY HORTON FOOTE
Directed By Tim Grimes
October 21 – 24
Riverside Arts Center, 76 North Huron Street, Ypsilanti, MI
Thurs. – Sat. evenings (8:00 pm), Sat. & Sun. matinees (2:00 pm)
Tickets are $18 for adults; $15 for students & seniors – call 734-663-7167
Group rates are available, as well as discounts for pre-show dining at Haabs Restaurant
– please call for more information.
Redbud Productions is proud to present the local premiere of the award-winning comedy/drama of a dysfunctional family in uncertain financial times – Dividing The Estate.
One of the most recent plays (appearing on Broadway with a star-studded cast to much acclaim in 2008 after a triumphant Off-Broadway run) by beloved Pulitzer-winning playwright Horton Foote, the play was nominated for two Tony Awards (including Best Play), and won the 2008 Outer Critics Circle Award for Outstanding New Off-Broadway Play, and the 2008 Obie Award for Playwriting. The New York Times called it a "masterwork" and a "must for discriminating theatergoers."
Set in Texas in the recession of the 1980's – this deeply amusing play of family squabbles is even more relevant when viewed in the light of the financial struggles of today's world. Michelle Derr leads an ensemble cast as Stella Gordon, the matriarch of a well-to-do Texas family, determined not to divide her 100-year-old estate, despite her family's declining wealth, her battling offspring and the looming financial crisis.
Lenore Ferber, Loretta Grimes and Thom Johnson are her adult children arguing over her estate – each bidding for a piece of the family pie – while reopening old family wounds and resentments during a large family dinner gathering. Grandson Chris Starkey desperately attempts to hold family and funds together and find a peaceful compromise – but will family disagreements be too much for his new sweet, socially minded girlfriend (Emily Rogers)?
Ralph Carpenter, Juliette Collins, Joe Eadie, Ena Headlum, Leslie McCarty, Jenny Pritchett, and Yessa Villarreal round out the talented cast as family and friends caught up in the dispute, as the Gordon family confronts its past to prepare for its future.
Find out why this critically lauded comedy-drama won the hearts of Broadway theatergoers! Meet the Gordon family for a humorous, emotional evening of theater!
To reserve tickets or for more information, call Redbud Productions at 734-663-7167.