Come Back Little Sheeba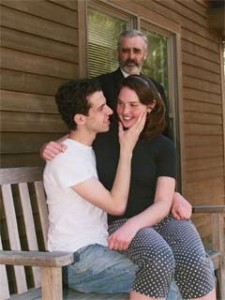 REDBUD PRODUCTIONS PRESENTS
THE TONY AND OSCAR AWARD-WINNING
CLASSIC AMERICAN DRAMA
COME BACK LITTLE SHEBA
Directed By Loretta Grimes
JUNE 1-4
Thurs. – Sat. evenings (8:00 pm), Sat. & Sun. matinees (2:00 pm)
Riverside Arts Center 76 North Huron Street, Ypsilanti, MI
For Tickets, call 734-663-7167
This touchingly unforgettable play, later an Academy Award-Winning film, is the moving story of a world-weary married couple struggling to find hope together from their mistakes of the past. In their small home, they dream of what might have been, as they cling to each other to cope with the realities of the present.
Come Back Little Sheba was William Inge's first play and won the Tony award for Shirley Booth, for her portrayal of Lola, the housewife, who reflects on her faded dreams as she searches for her beloved lost dog Sheba. She went on to win the Academy Award in the acclaimed film version, which was also nominated for several other Oscars.
Redbud's version of this American classic will feature an accomplished cast including well-loved area actress Sandy Ryder as the touching Lola; Tim Grimes as her disillusioned husband, Doc; Sasha Lazare as Marie, the couple's young, attractive boarder; John Boonin as Marie's college boyfriend and Matt Grimes as her wealthy out-of-town fiancé Anne Bauman as the disapproving next-door neighbor; and Khurum Sheikh, Chris Starkey, Glen Model, Leland Austin and Pat Grimes as local townspeople who are each individually affected by the couple's plight.
Tickets are $16 for adults and $12 for youth and seniors and may be purchased at the door. Reservations may be made in advance by calling 734-663-7167. Group rates are available, as well as discounts for pre-show dining at Haabs Restaurant – please call for more information.
Do not miss this emotionally moving American classic!